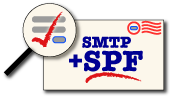 Today, I ran into a "funny" situation where I got caught by my own mail server and DNS configuration. Actually, I'm referring to the Sender Policy Framework (SPF) and it disallowed that an email would have been delivered on my behalf.
Delivery Status Notification
Earlier on I wanted to share a document on OneDrive with my client, and was surprised that he didn't get any invitation by email within the usual 5 to 10 minutes. Well, it turned out that the email had been declined with a Delivery Status Notification (SMTP 550):
Reporting-MTA: dns;DUB004-OMC2S4.hotmail.com
Received-From-MTA: dns;DUB131-DS14
Arrival-Date: Fri, 12 Dec 2014 03:22:13 -0800

Final-Recipient: rfc822;client@example.com
Action: failed
Status: 5.7.1
Diagnostic-Code: smtp;550 5.7.1 <client@example.com>: Recipient address rejected: Please see https://www.openspf.net/Why?s=mfrom;id=....

That's good!
SPF is configured via DNS
Although SPF is used for mail transfers it is configured in the DNS records of a domain. There you should specify an SPF record, or at least a TXT record with similar content to this:
v=spf1 a mx a:kirstaetter.name ptr:smtp.kirstaetter.name mx:smtp.kirstaetter.name -all

The explanation of the various mechanisms for the configuration of an outbound mail server is available in the Sender Policy Framework Record Syntax. And it is actually not too hard to learn and apply.
Rather be safe than sorry
In case that you didn't configure SPF for your domain(s) yet. Please, go ahead and do yourself and mainly other internauts a favour and set-up your DNS records accordingly. It doesn't take that much time but improves your reputation as an outbound mail host.