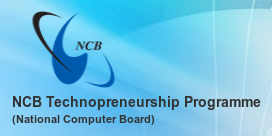 These recent days are packed with a series of great events... Starting last Saturday, at the monthly meetup of the MSCC I talked about my experience having a conversation with representatives of the National Computer Board (NCB) about the feasibility of getting one of their presentation slots at the Infotech 2013. At that time, the overview for three days was completely (!) empty - with less than 10 days before the event and the presentations are about too happen! Well, short answer of the NCB:
"No, those slots are only for paying exhibitors. But I'll check with my manager and we'll call you back."
Kind of disappointing for organisations and communities like the MSCC or the LUGM. I guess it is needless to say that I'm still waiting for their phone call... Anyway, Ish picked up the idea on last Saturday and also got in touch with the NCB via email. Most interestingly, his approach was way more fruitful and absolutely surprising and completely unexpected for any of us craftsmen he not only got one slot for topic presentations on Open Source, Linux and IT communities but three, and on top of that the NCB invited him to join them at their floor stand during the whole 4 days of Infotech to talk about Open Source. Fantastic and well done, Mr openSUSE advocate!
Quick overview
Since my first visit to Infotech a couple of years back, I have to admit that the whole event has gone from hardly acceptable to bad to absolutely unnecessary. Seriously, Infotech 2013 is not about latest technology and trends available here on the island...


Infotech 2013 - the annual computer bazaar and discount market here on the island
It's about lots of discounts and sell as much as you can. Empty the dust-covered shelves and sell it to the masses. Oh, you might day I'm too sarcastic about that? Hm, no I don't think so. Even when you have a conversation at some of the booths, and you ask for a couple of products being advertised - guess what? "Well, we didn't receive the item yet. Maybe tomorrow afternoon."
Compared to last year, there is not a single institution of tertiary education re-presented. Kind of shocking to my opinion. But again, I think this simply emphases the aspects of a tech-sales market rather than being a platform to show-case and demonstrate latest IT gadgets.
Searching the dialog with the National Computer Board
As mentioned, Ish got the offer from the NCB to talk about various topics using their available slots. First, as we were all too early we went to check the conference room - location, size, equipment, etc. All okay and next we tried to find someone in charge to get us going. Back at the NCB stand, it took quite some time until we got the right person. Anyway, nothing to complain or worry about as there was still plenty of time.
Meanwhile, I kept myself occupied with an easy conversation about the NCB Technopreneurship Programme - what an ugly word creation - well, I kind of tried it. I guess, talking English and not looking Mauritian doesn't qualify you straight ahead to join and participate in the entrepreneurial business programme of the NCB. So, finally after at least three times rephrasing my questions I got part of the answers but still left out with the essential benefits of the whole programme itself. I mean, it's not like I would be in need to join their programme but I would like to transfer some of the information to other MSCC craftsmen which might pursue in founding a start-up in Mauritius. To cut things short: If I would be interested I might send a request for a presentation. Hm, honestly... I'm offering a communication platform to the NCB and it's up to them whether they would like to advertise and promote the Technopreneurship Programme to our 50+ craftsmen or not. Anyway, I made a note on our Trello workspace as a potential topic...
Our test-run
Despite the set time slots we decided to swap the sequence of our three presentations, so that they match more closely to Monday at the Linuxfest 2013. And I had to leave early, too.
Mauritius Software Craftsmanship Community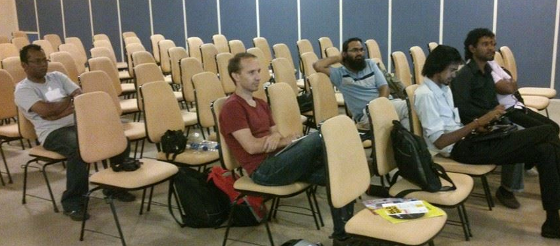 Our exclusively selected Infotech2013 session audience
Kicking of the sessions, I went quickly through my slides and spent more time on the actual demonstration on how to run Windows software on Linux. Apart from a small hiccup in Microsoft Word 2007 Reading View all went smooth and stable. Overall it took me about 40 minutes to talk the various options and possibilities that could simplify your move from a Windows desktop to a Linux-based system. But for sure, I have to get rid off some visual effects on the slides and cut some demo material for Monday. I'm going to have 20 minutes only... Nice challenge!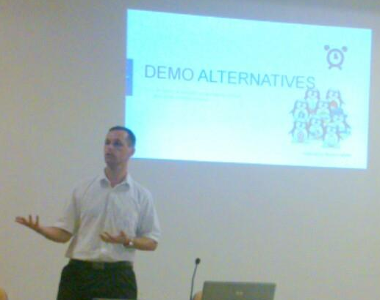 Infotech 2013 - Running Windows applications on Linux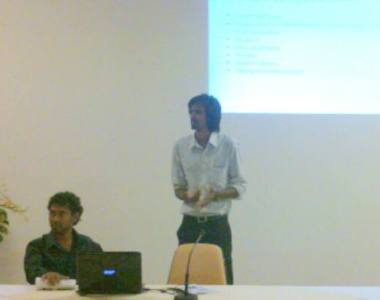 Infotech 2013 - Mauritius Software Craftsmanship Community presented by
Nirvan and Nayar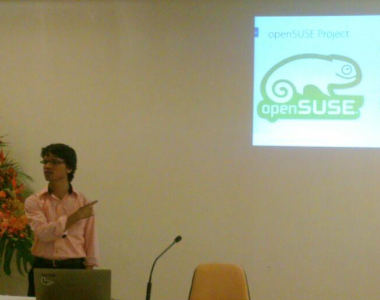 Infotech 2013 - openSUSE Project and openSUSE Advocate Program presented by Ish

Luckily, I could stay some more minutes and enjoyed the presentation of Nirvan and Nayar about the MSCC. Both did a very good job, even though that the laptop used gave them a hard time. Ironically, it's a Windows system... okay, okay, just kidding! Afterwards some minor advice, like using a dedicated Windows user account only for the presentation (which avoids nasty notifications from the Systray area), and to uncheck "Show Desktop Icons" in order to show a clean and empty desktop background on the big screen. Hm, which actually reminds me to choose a better background image for Monday, too!
Resume of the day
Experimental... It's been a while since I spoke in public. Well, this time it was only a small audience but I'm really excited about what's going to happen at the Linuxfest 2013 on Monday. I'm really looking forward to an awesome experience and to meet lots and lots of enthusiastic young people.
Updates
I just went through the blog posting of Yashvin and his statement confirms my impressions neatlessly:
"I won't be too long explaining in words how was the Infotech 2013 edition but in one word, I would say "Worst"."