Did you ever hear about the Google Developers Expert (GDE) Summit in the Sub-Saharan Africa (SSA) region? No? Well, then let me tell you it was the same experience for me. This year, read: 2022, was the first-time ever that the community leads at Google Lagos, Nigeria organised the regional GDE SSA Summit and invited approximately 30 experts from all over the African continent to Kigali, Rwanda.
Reading about the GDE summit and getting the chance to attend this in-person event stirred up quite a bit of excitement in me. It's not like I haven't been travelling lately. It's more about the outlook to meet some old friends and to probably make new friends.
Preparations
Frankly, not much to report about any preparations on my side. The GDE leads chose Rwanda due to its travel-friendly VISA regulations for citizens from other African countries. For me, as German national, Rwanda stipulates a VISA on arrival. No surprises here, and it's very similar to the procedures I had while travelling to the GDG SSA Summit in Nairobi, Kenya back in 2018.
However I was struggling a bit with my Lenovo Chromebook and was wondering whether I should drop it off for servicing prior to the trip or afterwards only. The keyboard was acting up and even a so-called power-wash to wipe the system completely as recommended by several sources online didn't bring me any improvements. Luckily I decided to keep it, paired it with an Logitech K380 keyboard and a Logitech Ergo M575 trackball via Bluetooth and I was good to go. Oh yeah, of course I packed a few clothes as well, but not too many. Read: no checked-in luggage, cabin luggage only (highly recommended for short trips).
Technical and non-technical equipment
Not sure whether this might be of interest but I'd like to jot down the stuff I brought for myself. Maybe it's an inspiration for you.
Those are mainly the technical gimmicks that went into my cabin luggage. The focus is clearly on everything using a single connector, USB-C. With that single power-unit I'm able to charge all devices.
Now onto some essential utilities I always bring along while travelling.
High-performance outdoor towel (easy to clean; fast drying)
Spare face masks
First-aid travel pack with disinfectant and band-aids
Mosquito repellent
Vitamin C (powder or dragees)
And that's about it. Again, traveling light is key on such kind of short trips. If ever there would be any need I can easily go to one of the local grocery shops, supermarkets, or pharmacies to purchase whatever is missing.
Travelling (to or) within Africa
I know, I know, Mauritius is really located at the most Eastern edge of the continent and even some people might say that the island isn't Africa anymore but Asia. Yes, it is Indian Ocean territories you might say and I actually like the circumstances that Mauritius belongs to three realms on the globe. Which sometimes doesn't make it easier for us islanders to travel west-wards. There are several routes available; obviously with varying travel times as well as cost involved for the air tickets. Let me give you some ideas.
Mauritius - Johannesburg - Kigali
Mauritius - Nairobi - Kigali
Mauritius - Dubai - Nairobi - Kigali
Mauritius - Dubai - Entebbe - Kigali
Mauritius - Johannesburg - Harare - Kigali
etc.
Given those few examples you might imagine the travel times and cost involved. Total flight times ranged between 15 hours and over 40 hours, whereas prices for air tickets somewhere between USD $700 at the lower end and close to or even beyond USD $4,000 at the upper end. Travelling in economy class... not that you might expect business class or anything more comfortable. A number of route / airline combinations surprisingly turned out way more expensive than expected and others would cost less but would also take a larger chunk of time out of your personal schedule.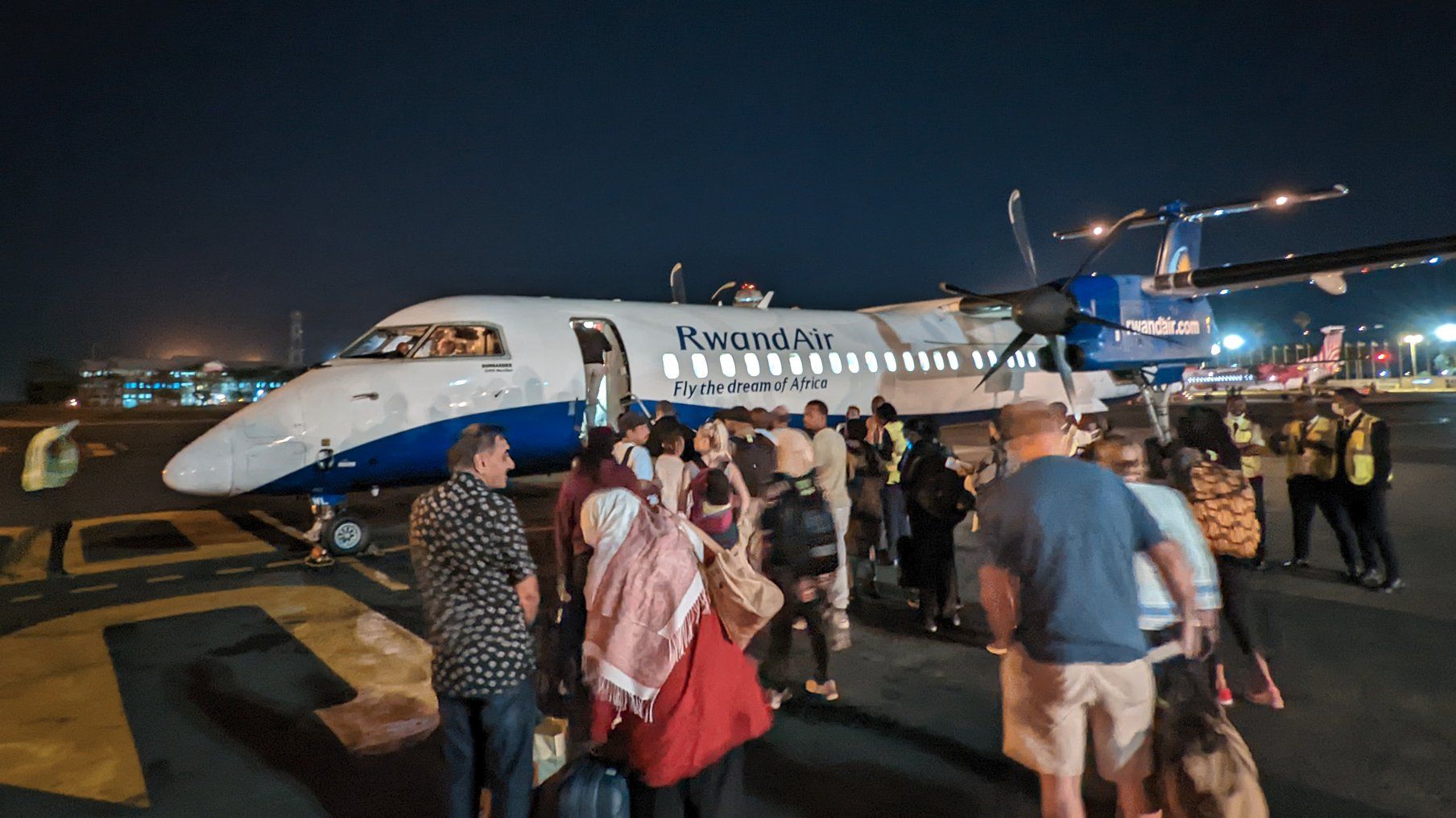 Well, after a few hours exploring available options forth and back, and email exchange with the travel agency I finally decided to stick with the known. I traded a couple of additional hours for the comfort and services of Emirates while keeping the expenses for the air tickets within an acceptable range. Finally, I chose the two-stop, long-way round trip via Dubai and Nairobi. Thanks to past travelling experience, ie. SSA Community Summit 2018, I know both airports and the facilities they offer. It had always been manageable to spent a couple of hours there. Also considering easy access to their corresponding business lounges for travellers.
Can't imagine the adventure it might be travelling to a future GDE SSA Summit on the western coast of Africa, let's say Guinea, Mauritania or Ivory Coast. Whew, surely that would be exciting but also very exhausting.
Hello Kigali
What a beautiful city you are!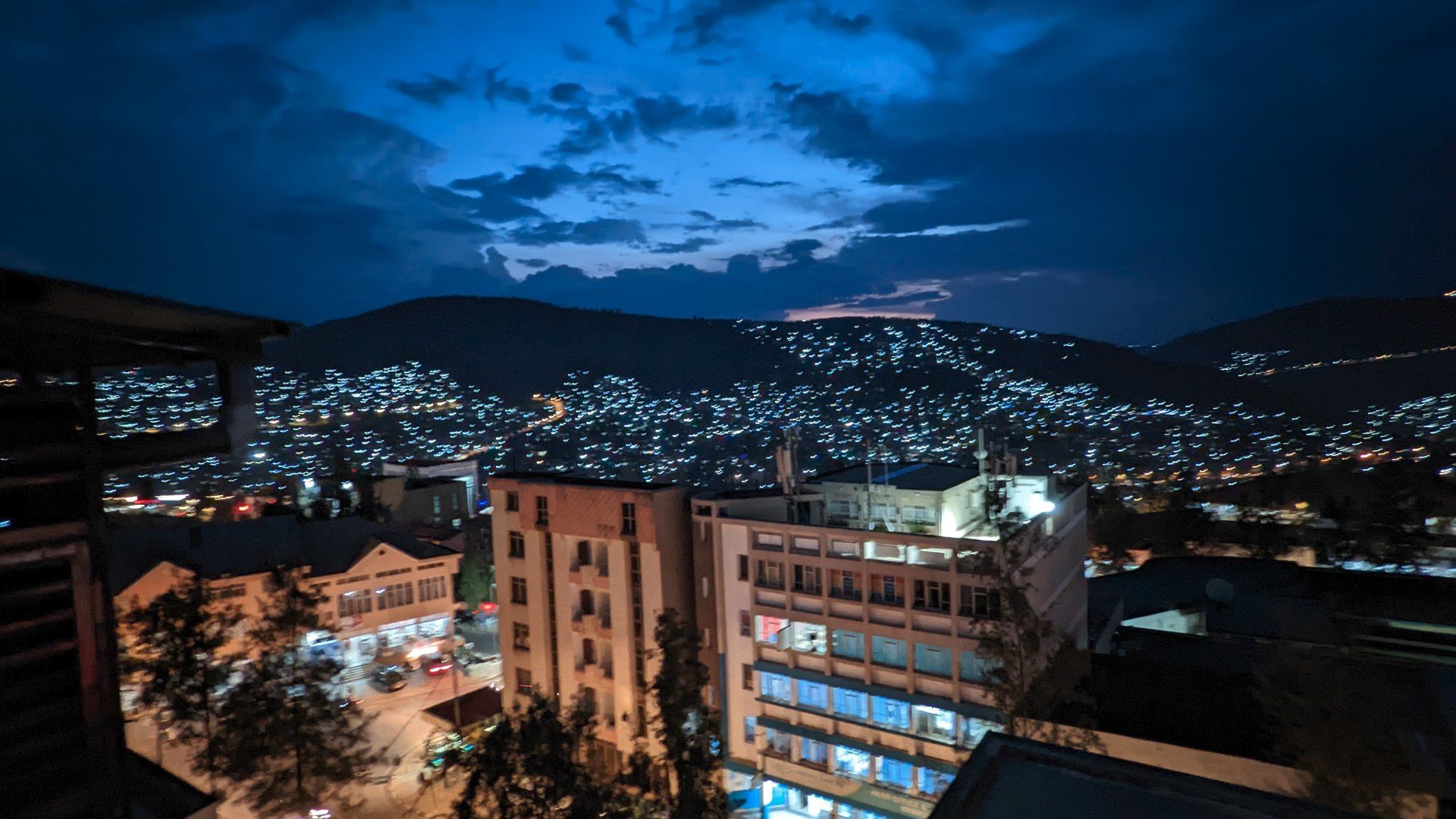 Honestly, I have been slightly gobsmacked after exiting and leaving the airport even at the night. Everywhere you could look it was both very clean and very green. No graffiti on the wall, no dirt or rubbish on the streets or in the curbs, lots of plants, trees, and flowers anywhere. Proper lighting and fantastic state of roads. Speaking of roads, the Kigali is in close vicinity of the city and therefore speed limits of the city apply - a general limit of 60 km/h. Which is great and safe at the same time. Plan your car ride well ahead of schedule and don't rush around the suburbs. Quite impressive I have to say, and surely European cities can learn a bit or two from Kigali.
While waiting for the transfer to the hotel I was exchanging a little bit with our GDE leads Eunice and John who told me that other GDEs would arrive soon from Johannesburg due to delayed flights. Alright, let's see who's it going to be. First came Android GDE Ahmed Tikiwa and shortly after we were joined by Android GDE Maia Grotepass. Finally, Eunice came together with Josue Mutabazi, who runs the GDG Kigali to give us a heart-warming welcome. Great to meet such lovely people at that time and talking about the various travel experiences. Interestingly both Ahmed and Maia came from Cape Town however on different routes with different obstacles and observations.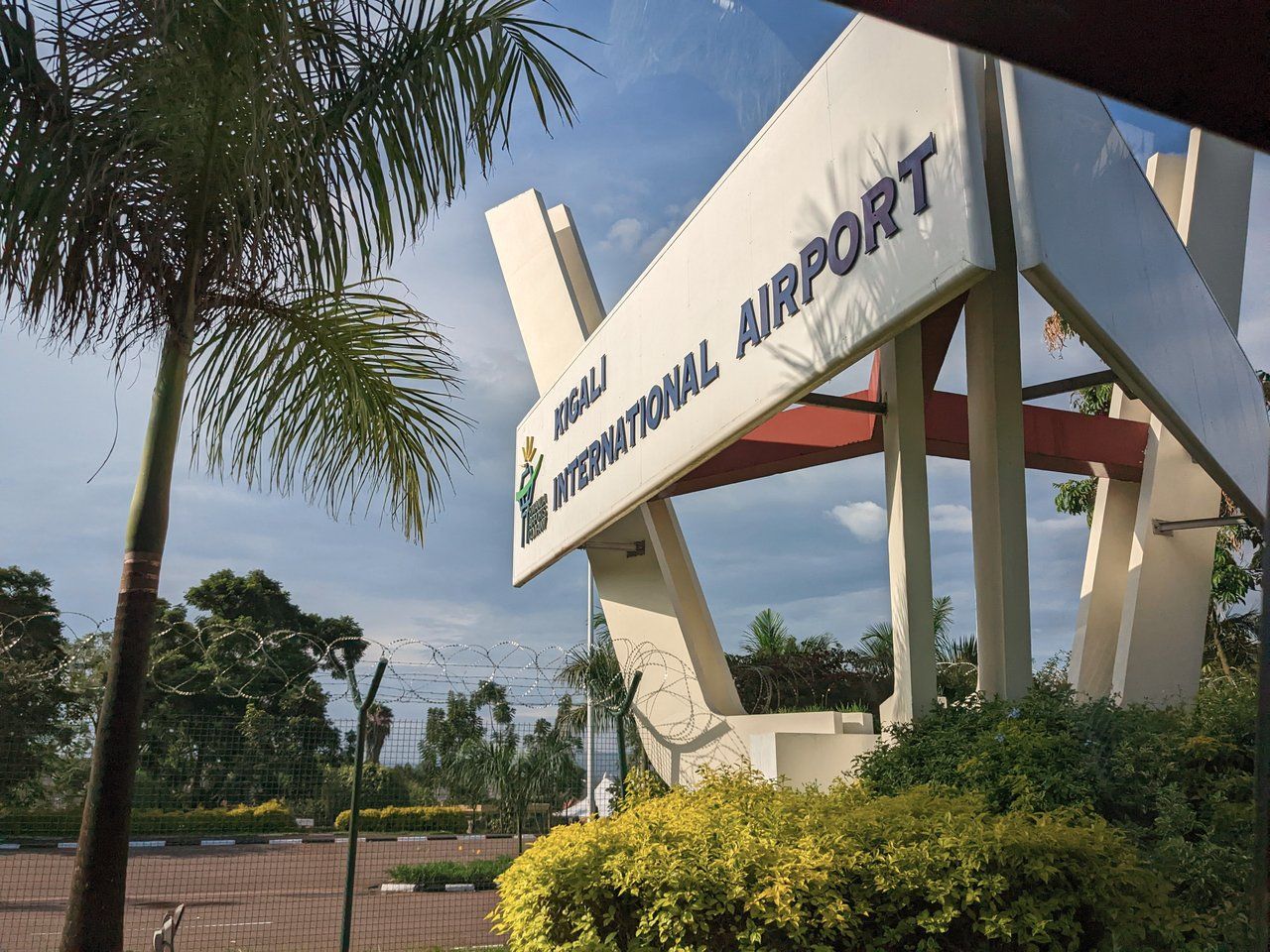 Lastly, we got an additional car to cater for our transfer to the hotel and off we went. On the way I also noticed that the local offices of one of our partners of the annual Developers Conference - Liquid Technologies - are close to the hotel. Arriving at the hotel late in the evening took a toll on my fitness. After I had a quick shower and video chat with my wife I headed straight into the bed and caught some Zzzz's.
Thanks to the difference in time zones - GMT+2 vs GMT+4 - I won two hours extra sleep during the night, I mean psychologically seen. Therefore I was well recovered and re-energized in the morning. Rise and shine!
First day: Get to know each other (more)
During breakfast I joined a few early folks and together we were joined by more GDEs and our community leads. Whew, it has been four years since I last time spoke to John Kimani as well as Auwal Samu in-person. It was also great to meet again with Robert John after his speaker appearance at DevFest Mauritius back in 2019. During DevFest Nairobi 2018 I attended an interesting session by Kenneth Kinyanjui on Progressive Web Apps (PWA) who joined us a little later morning. Plus, there were lots of other experts like Hannah Olukoye and Maina Wycliffe joining in.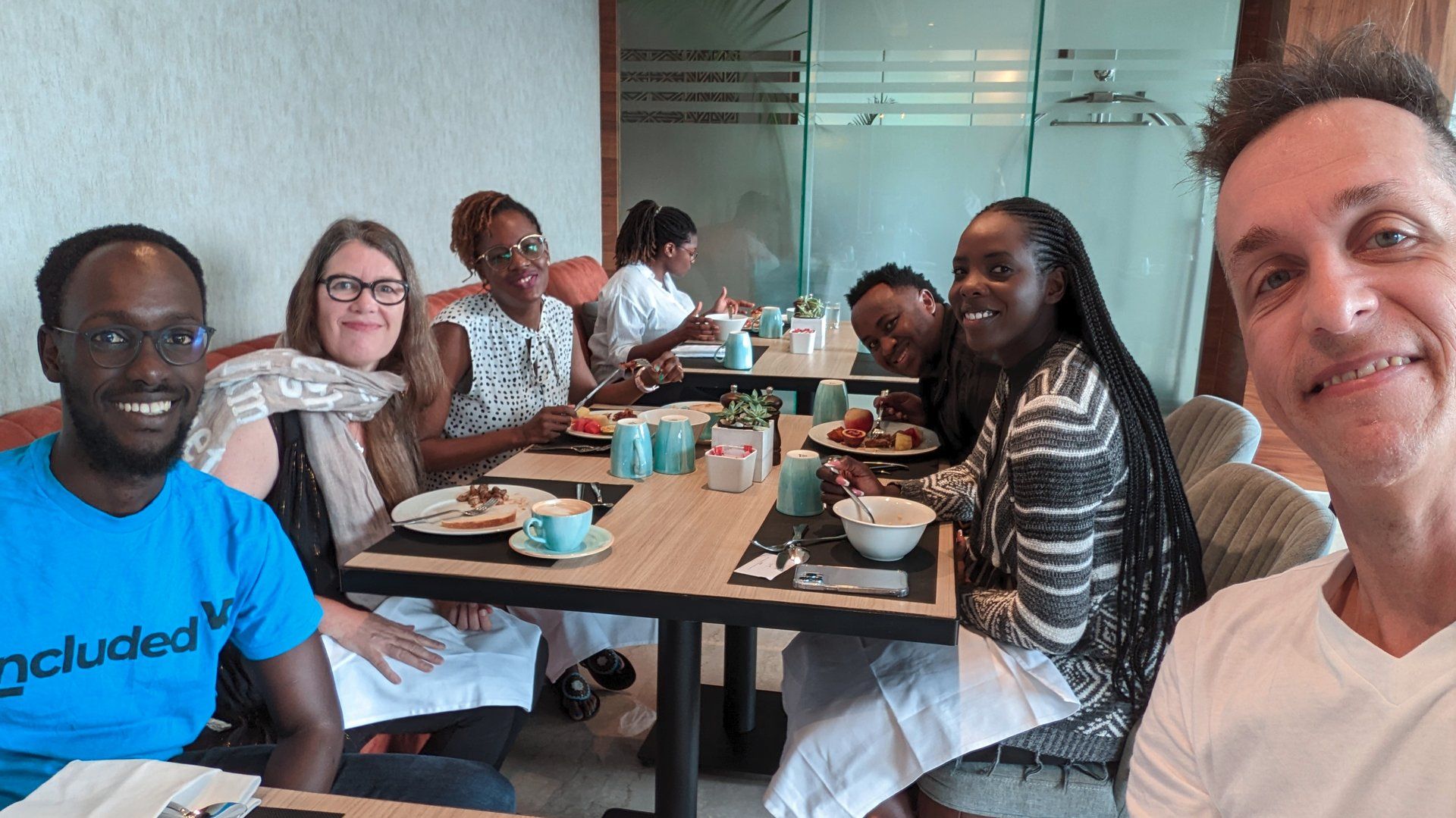 Ohhh, and I was delighted to meet Ezekias Bozoke who participated in this year's Road to GDE mentorship program. Why you might wonder? Initially I was chosen to mentor Ezekias during that journey to become a GDE however due to my limitations in speaking technical French I requested that he'd be reassigned to another French speaking GDE, Guillame Blaquiere. I'm really happy that Ezekias became a GDE.
Now, well fed and full of energy it was time to explore the hotel a little bit before the meetings of the GDE SSA Summit would start. Heading back to my room I came across Alex Koller in the hallway. He seemed a bit surprised that I recognised him or maybe it was just too early. Who knows. OK, back to hotel facilities, so the gym as well as the heated pool are on first floor and just around the corner of the meeting room of the summit. Hmm, maybe we should spent the afternoon talks in and around the pool.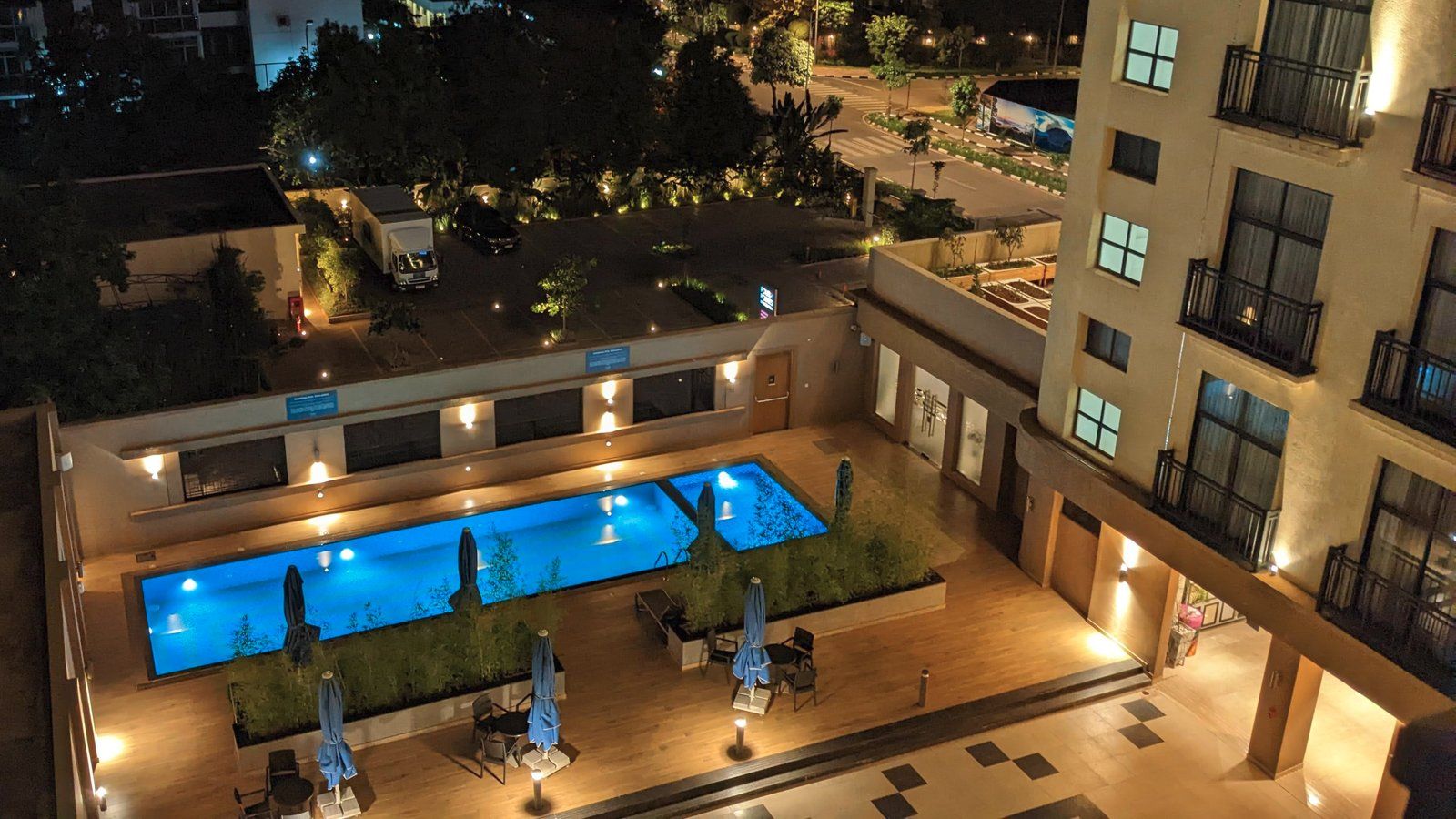 Great stuff coming for GDEs and for Africa
The main topic during the summit was Next Billion Users. All about the latest news and trends about Google's new products and features for the next billion users. And its $1 billion commitment to Africa.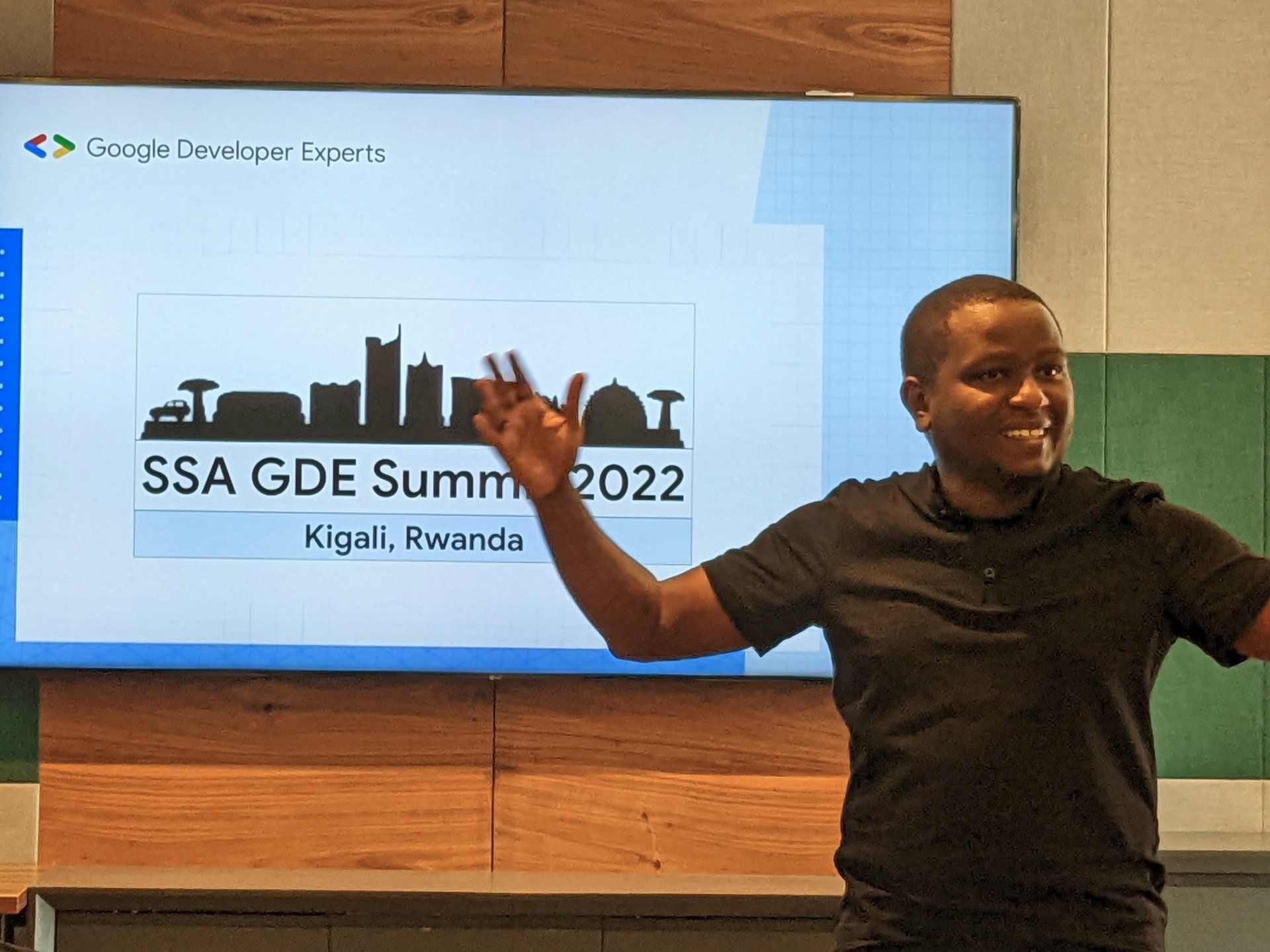 And there will GDE membership certificates coming. Hoorah!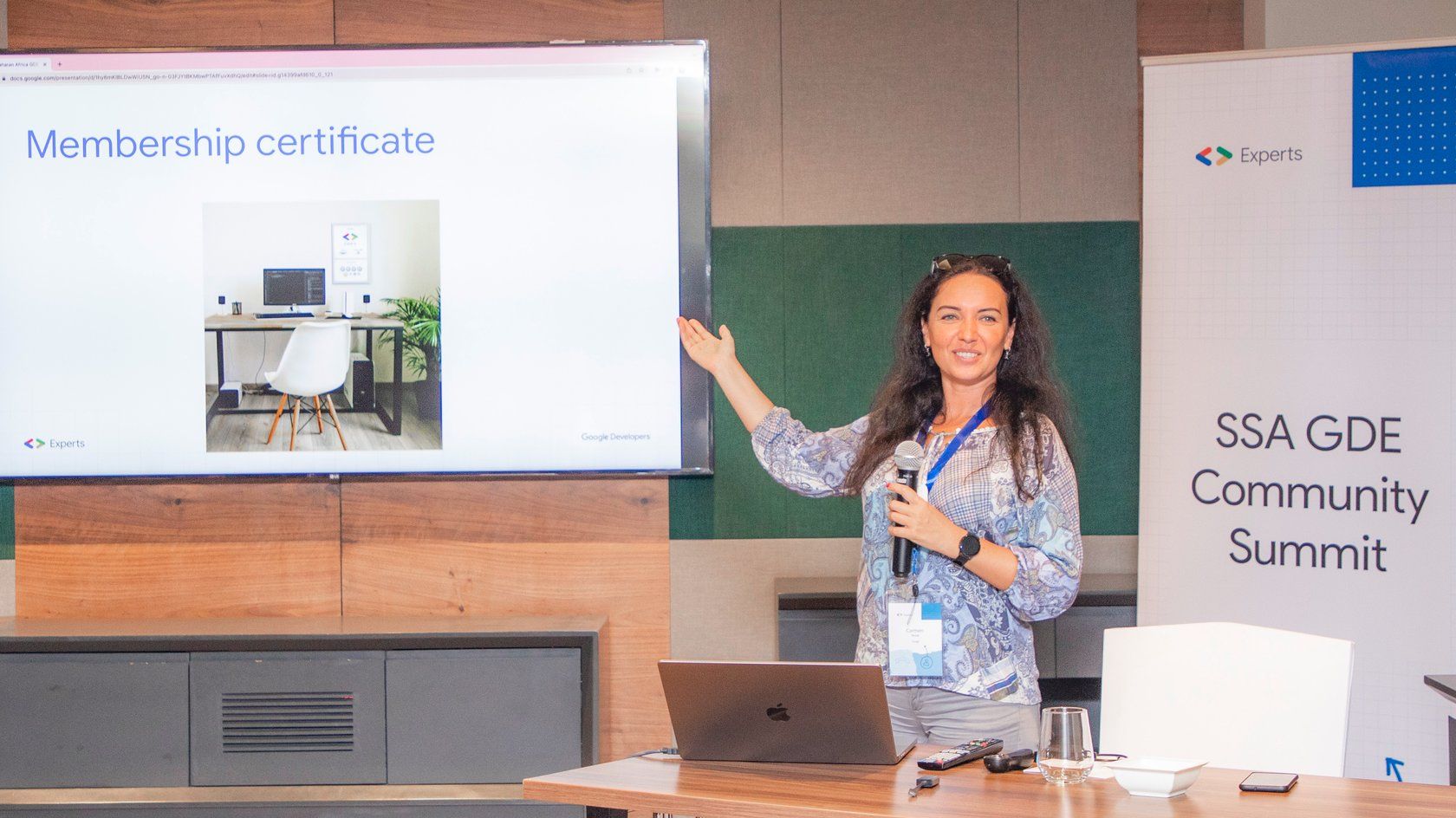 Due to the constraints and difficulties caused by the pandemic there had been honorable mentions of a couple of GDEs who remained active during those tempting times. Can you imagine my surprise seeing myself on that slide? Apart from that COVID stuff I had struggles of my own during 2021 and I'm still impacted by aftermath.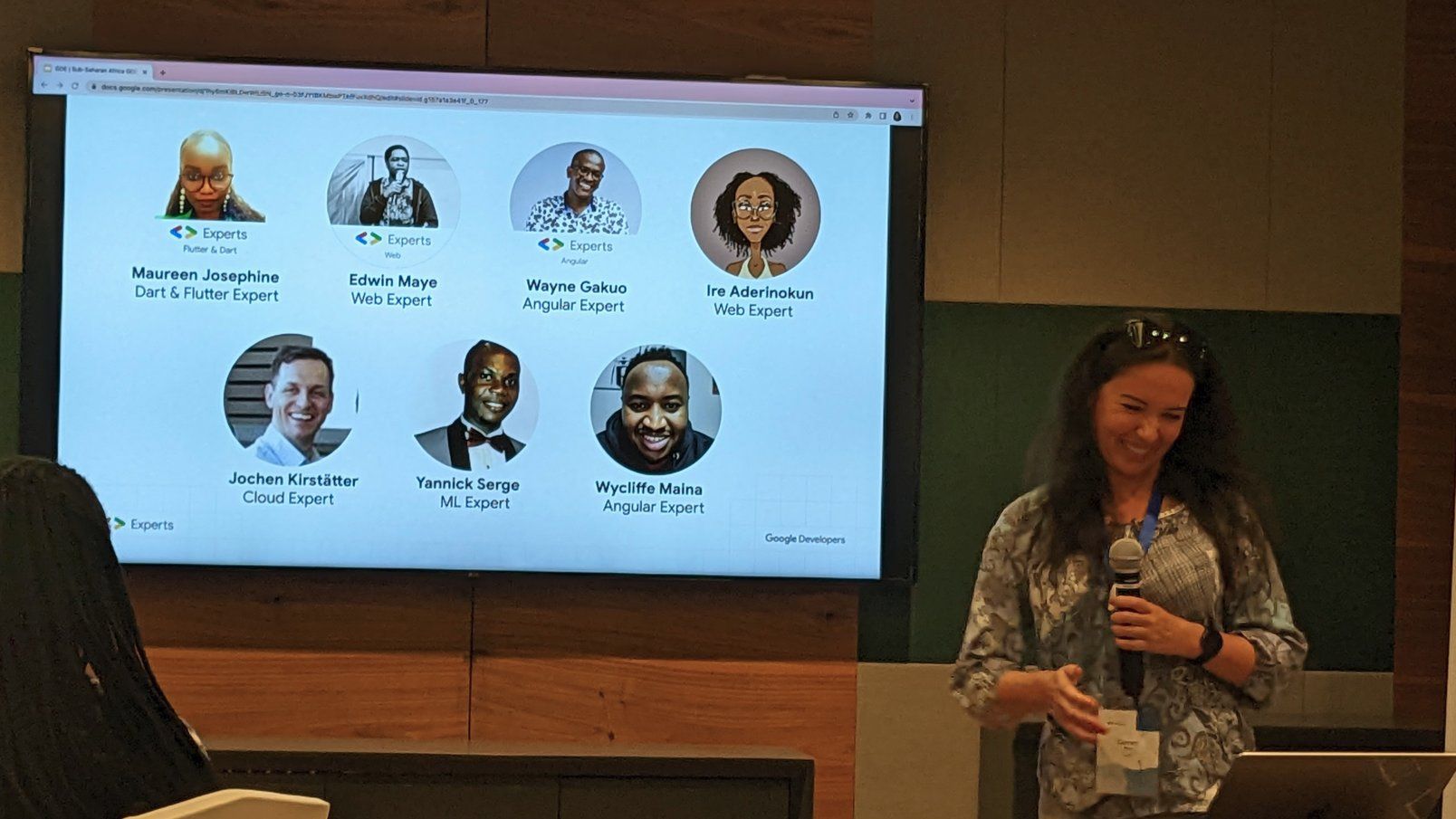 Big kudos and shout out to all other GDEs. You are amazing and we all do an amazing voluntary work in our region.
CcHub Design Lab Kigali
To avoid hanging around the hotel all day long a local GDE organised a kind of Meet & Greet mentoring workshop kind of style date for us. So we went on a short trip from the hotel to the Co-creation Hub (CcHub) Design Lab in Kigali.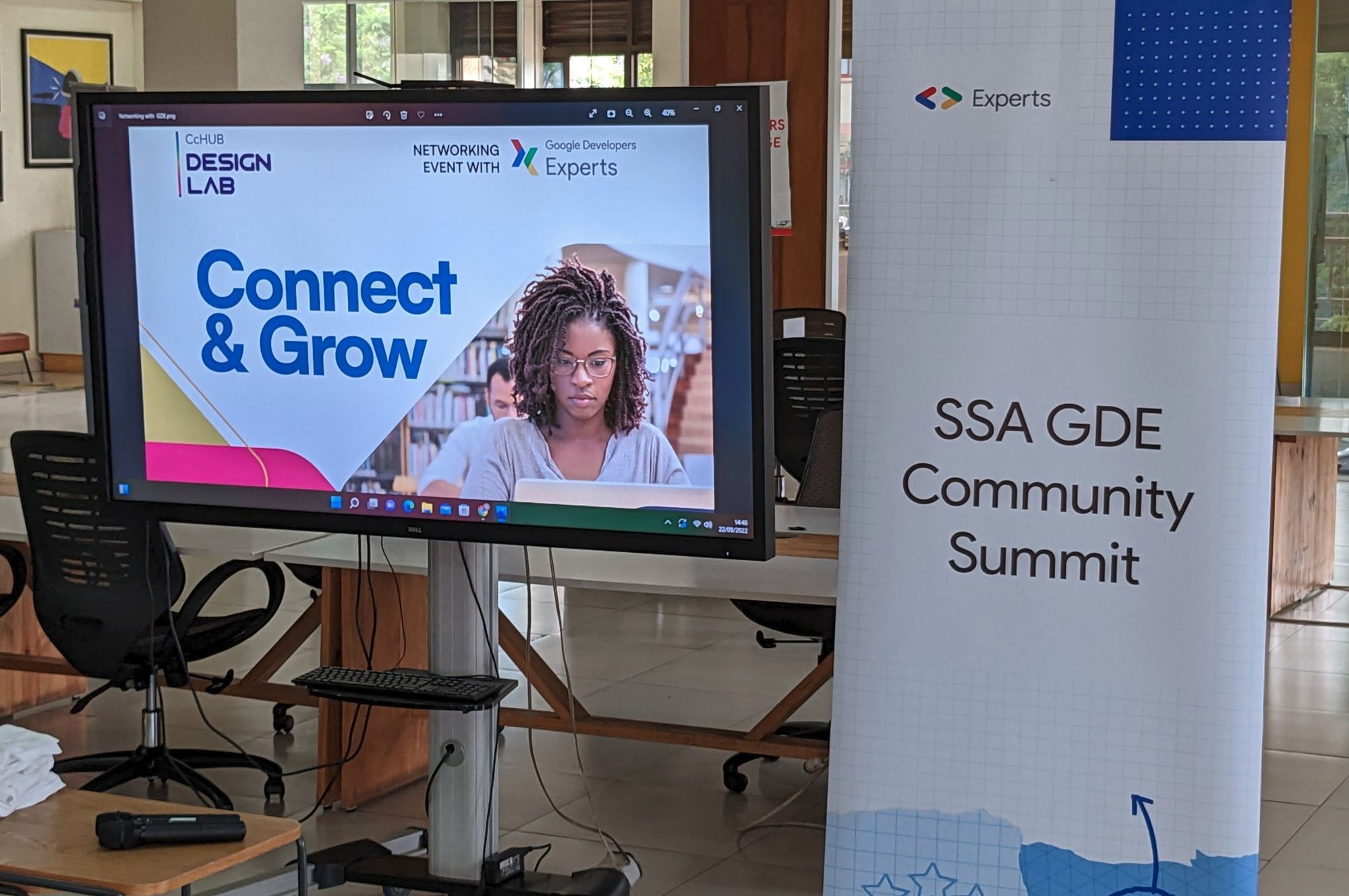 Apart from some interactive session among ourselves we were asked to offer expert advice to a group of start-ups which are part of the CcHub development program.
Dragon's Den Light
We were divided into several groups and then it was time for "Dragon's Den". Listening to their start-up ideas and their "sales pitches" was pretty good fun, and we enjoyed ourselves with a number of questions towards the participants.Especially regarding their choices of technological stack, cloud computing provider and legal constraints they might be facing.
Second day: More community and even more fun
Like the previous morning I woke up full of energy and ready for another day of community and fun. But first duty called. Together with a few GDEs for Google Cloud I had a joined meeting with Googlers in Singapore to join our experience and views on Google Cloud Platform for Africa. The major question was 'How can GCP be ready for the next billion users?' and the specific requirements of African people and governments. In general, data access on mobile is still scarce and expensive across the continent, and yes, back in Mauritius we can be really happy with what we already have compared to other African countries and regions. Both in regards to bandwidth capacity as well as affordability of mobile data plans.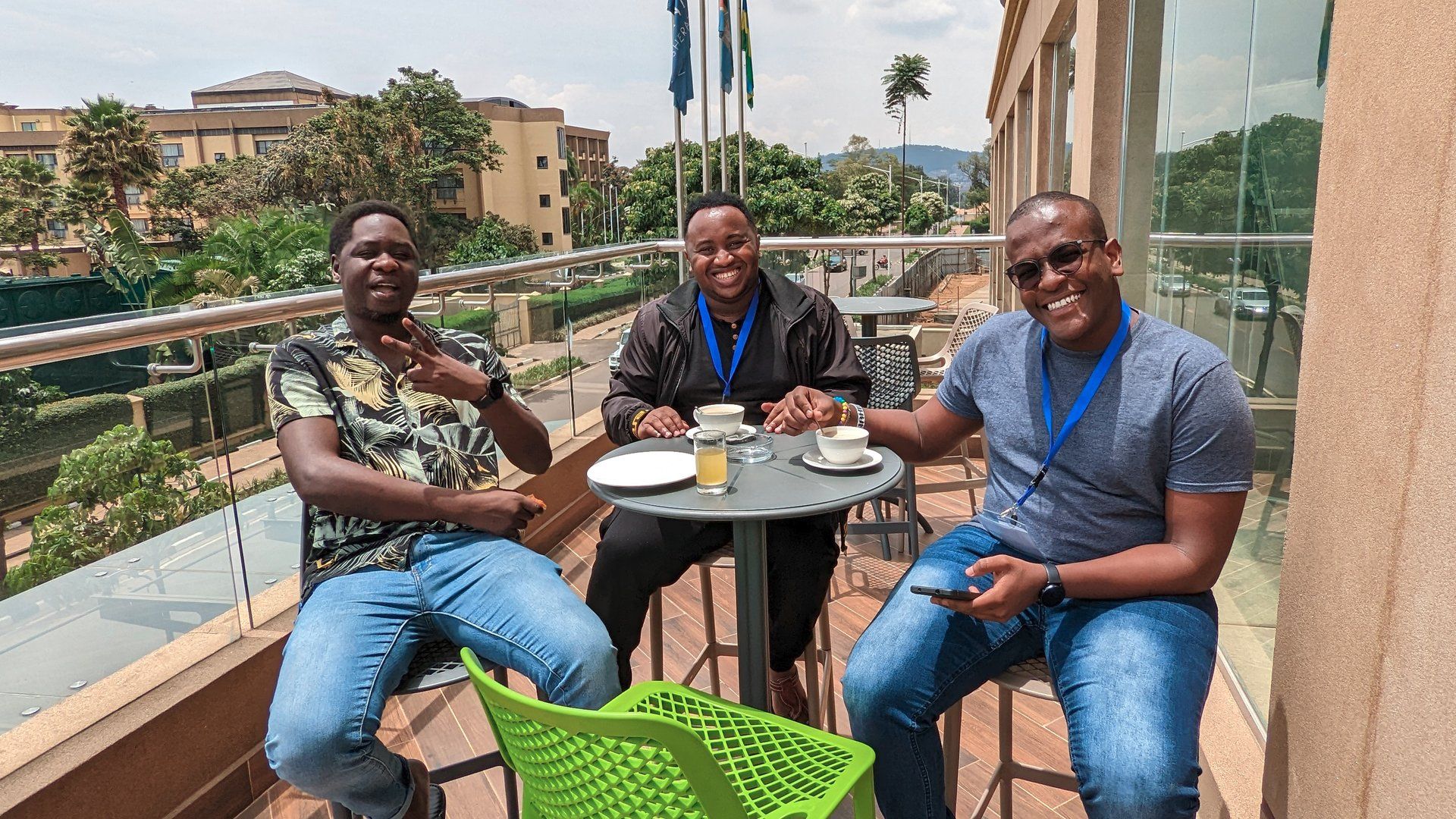 Right before lunch time we had concluded the official parts of the SSA GDE Community Summit agenda and it was time for more entertainment that would require our full attention, might and skills to complete the tasks ahead of us.
To escape or not to escape, that's the question
Following a brief bus ride through the beautiful city of Kigali we stopped on the parking area of a football pitch or kind of community playground. Turns out the nearby located facility has been converted into an Escape Game. We have been split into two groups - each tasked with different challenges - and the competitive game play was on. Who would be first to escape?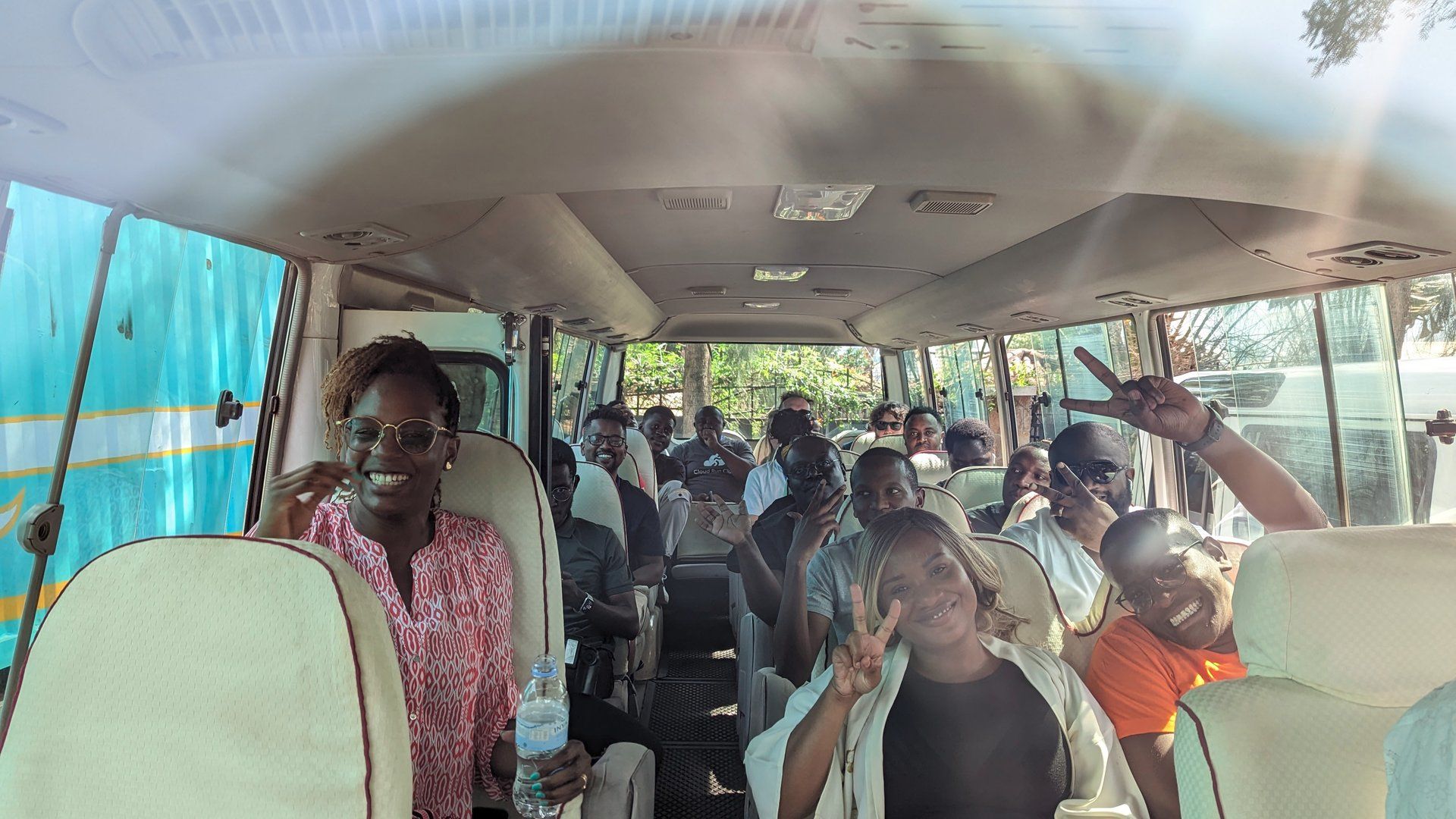 Honestly, our group had additional challenges to master but at the end we finally managed to escape alive.
After all that excitement and challenges we escaped to a cool location for lunch time. The place has an open space for large gatherings with a authentic rustic kitchen area in one fo the cursors sporting a furnace made out of bricks. Very chilled atmosphere and great ambiente to hang out and just network.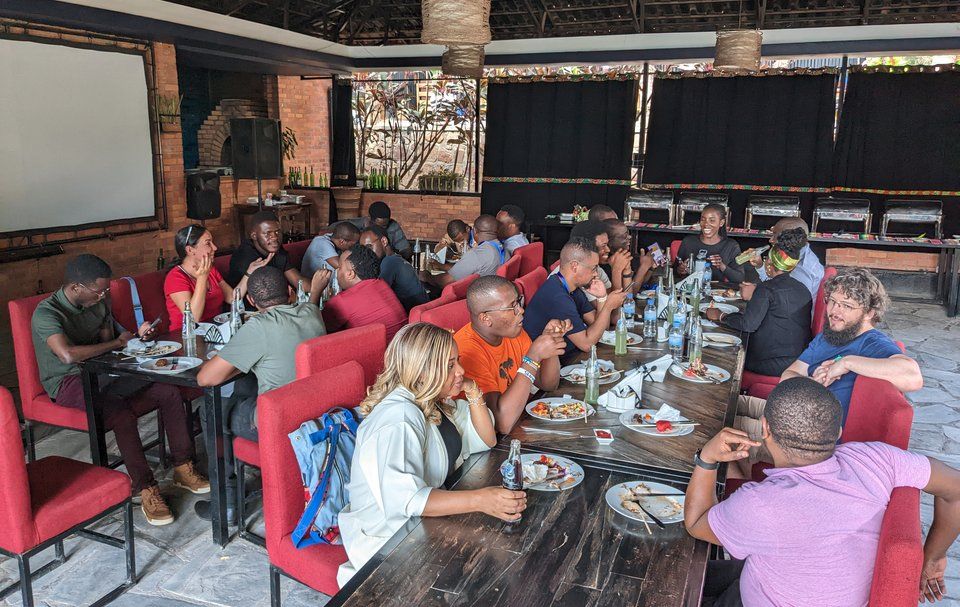 A picture says more than a thousand words
Next, we drove across half the city for an artistic session. "Paint & Drink" was the motto of the afternoon reaching one of the rooftop bars in downtown Kigali. Each of us was greeted with a cocktailof choice and... an empty canvas.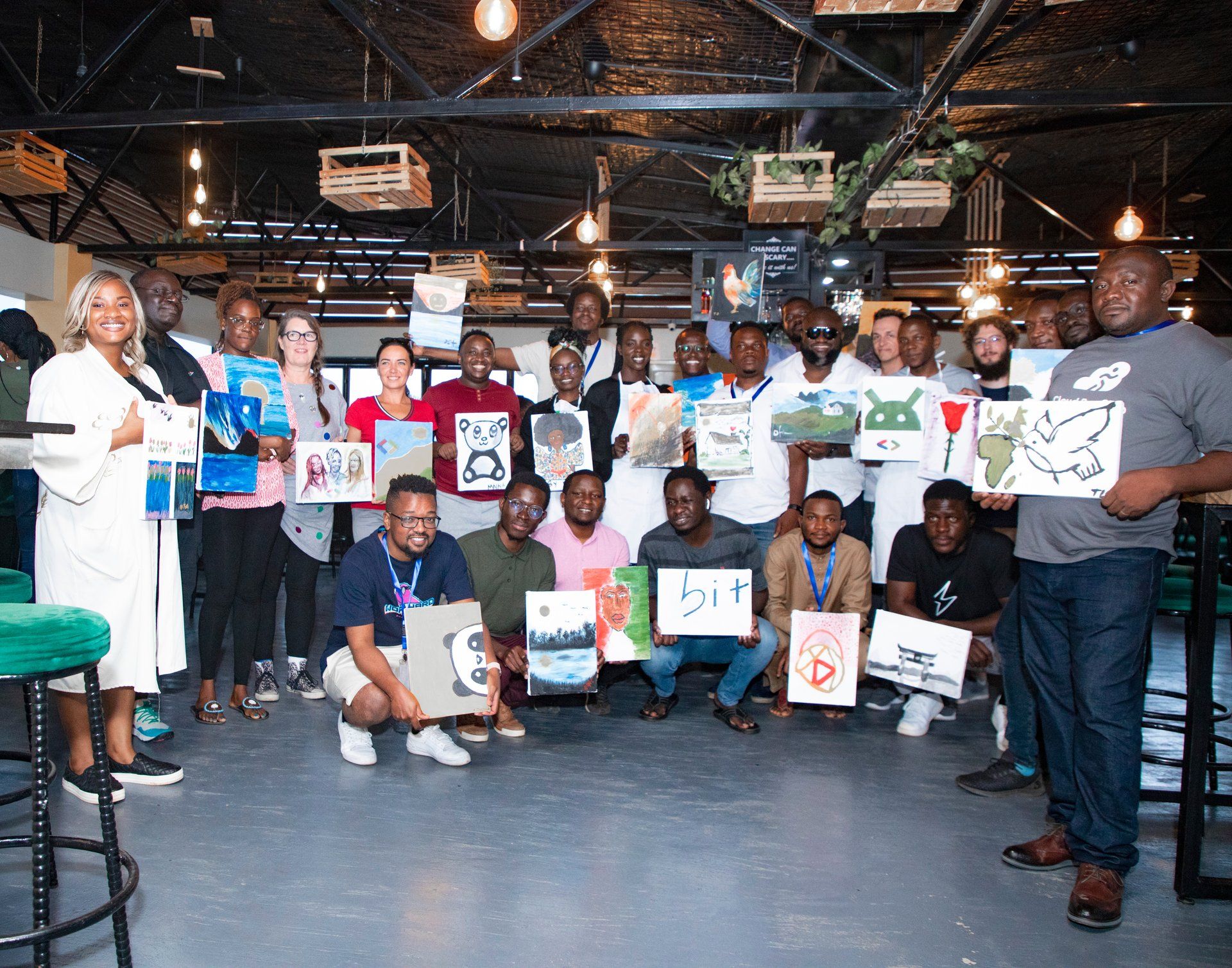 This was a completely new experience for me. I have never done anything like that before... However it was good fun and entertainment. Some paintings are really impressive pieces of art. Surely not mine. ;-)
Celebrating dinner together
To wrap up the day we were hanging out for dinner at another cool location called The Hut.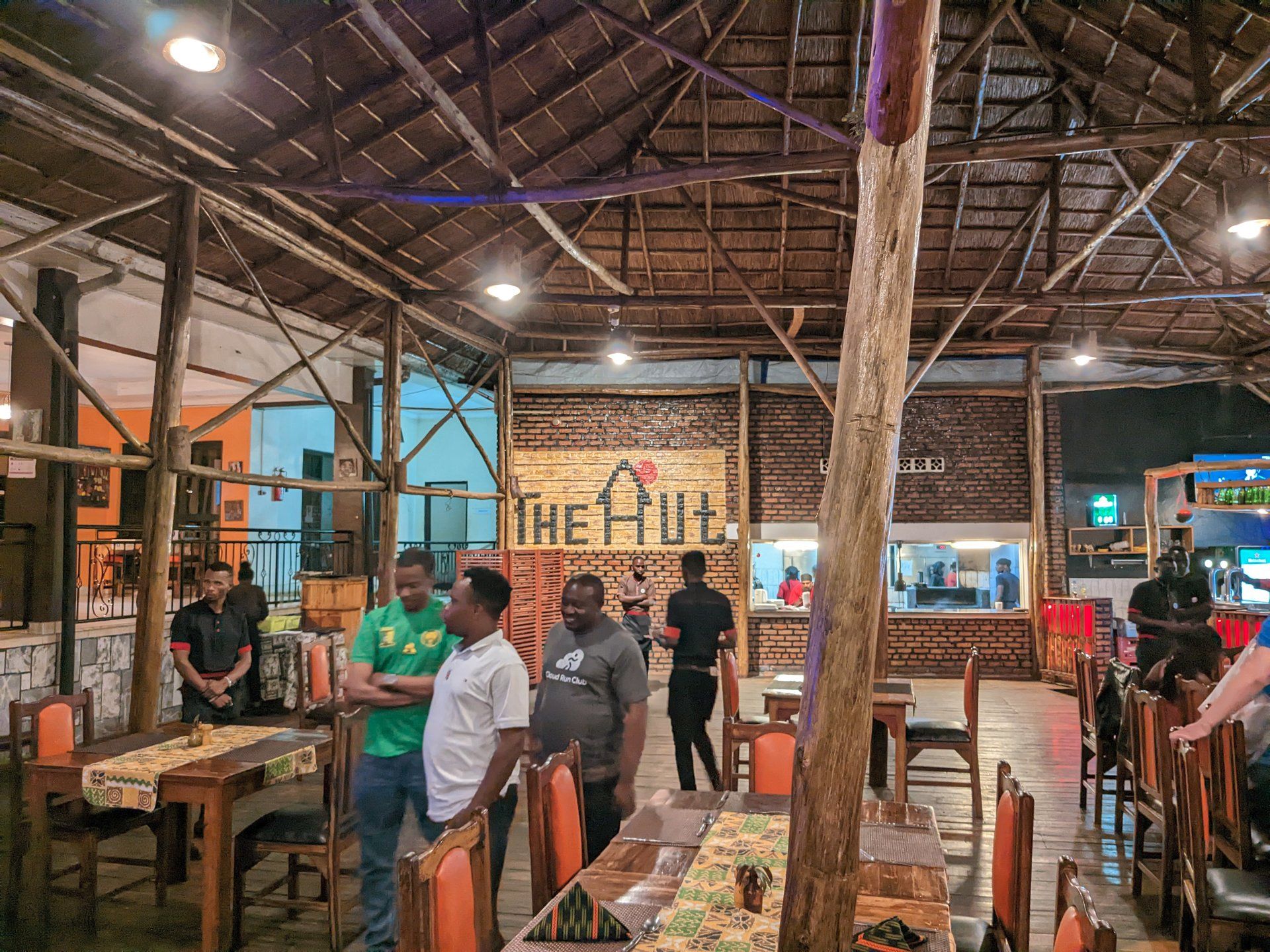 That dinner was purely networking and having great conversations with other GDEs. With further progress I was enjoying myself speaking with a group of fancophone GDEs, among them Ezekias, and we had good laughters all around. It was great to learn more about their countries and the activities of their communities there.
DevFest Kigali
Hah! You might expect a DevFest to start in the early morning hours, like probably as from nine o'clock on-wards or so. Not in Kigali my friend. Or at least not on any last Saturday of a month. Turned out that on such a day people are not allowed to be on the roads before noon because of city-wide (national) sanitation. Meaning, the streets are cleaned and maintained by public service. Therefore vehicles, motorbikes as well as pedestrians have to stay off them. Woah... never heard of that. Impressive: Kigali - Cleanest city
Note: It's called Umuganda
Well, no problem for me. I slept long that morning, took a very late breakfast and then decided to hop into the heated pool for another hour and chill. Eventually other GDEs took notice and I got company by Ahmed and Robert - both preferred to stay on the pool loungers though. Robert gave me a couple of Arduino devices that I should handover to the Makers community in Mauritius. Ahmed on the other hand shared some funny anecdotes about the power load-shedding in South Africa and a couple of personal experiences. He was also genuinely interested in the situation of IT in Mauritius.
This year's edition of DevFest Kigali was organised at a newly co-working place called Norrsken. Actually, it's a Danish company that created a facility for young start-ups in Rwanda to launch their business ideas. As Norrsken is located in walking distance to our hotel a few of us GDEs met in the lobby and went together there.
The organising team of GDG Kigali decided to go for a mixed setup. Two registration desks - one for attendees, one for speakers and helpers - were located outdoors right after the entrance. Easy to spot and lots of space to gather around the tables to receive a precious badge.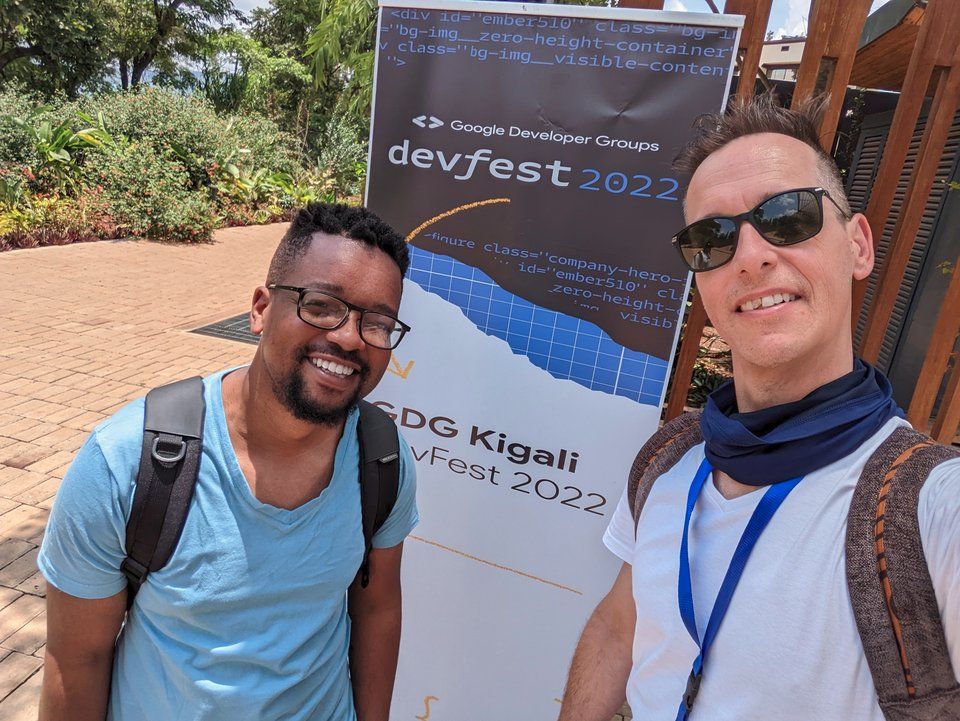 Directly next to those desks was a large pavilion with an approximate seating capacity of 150 to 180 seats. Visually an amazing place to welcome attendees at DevFest Kigali and to conduct the opening keynotes held by John on anything Google as well as Chuka Ofili about fruitful advice on personal and professional career development. Afterwards, the schedule split into multiple tracks and the audience was guided to three additional break-out areas based on their interest and choice of presentation.
Although I went to explore the co-working space between my arrival at Norrsken and the official start of DevFest I finally decided to stay in the pavillon and attended the presentation on Android development using Flutter by GDE Hannah Olukoye and the art of story-telling by fellow GDE Maia Grotepass. The talks were great and really helpful. The Q&A periods however added another level of fun to it because of the high number of Google Developer Experts present. Literally no question remained unanswered. When one of the speakers couldn't give advice straight away one or multiple GDEs chipped in and shared from their experience. What a spirit of community. And opportunity for DevFest attendees.
Unfortunately, I couldn't stay for the whole day of DevFest Kigali but had to head back to the hotel collecting my stuff and then enjoyed a smooth ride to the airport together with Wayne Gakuo and Dhanija. My long journey back was coming up next.
Thanks and kudos
A big shout-out to our regional leads of the GDE and GDG programs (in no particular order) - John, Eunice, Auwal, Dhanija, Ada, and Sodiq - this first-ever GDE SSA Summit went down like a breeze. The mixture of informative presentations, fun sessions, community activities, and evening program was well-balanced, well organised and executed. The choice of inviting us to Kigali was fantastic and a hassle-free experience of travelling (at least for me and I had fun despite the long hours).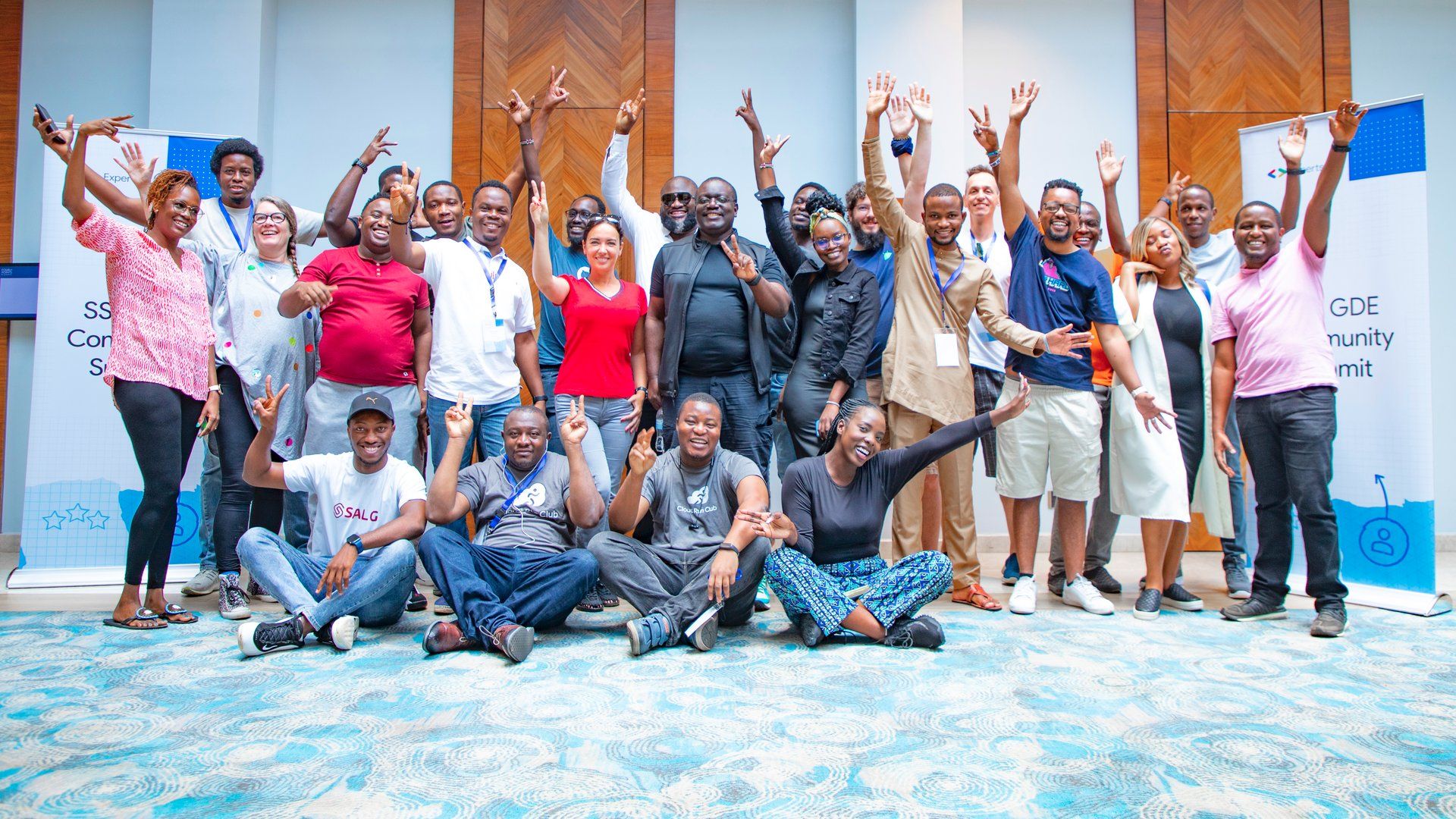 All the best and lots of success to Femi and the lovely people at CcHub Kigali in their quest to discover fresh entrepreneurs and nourish their creative talents for the benefit of Rwanda and perhaps whole Africa. Would love to see success stories coming from there.
And a big Thank You to GDG Kigali for organising their annual DevFest event at the same time. Giving some of us GDEs not only a chance to speak in front of audience but also to network with the attendees. I really enjoyed meeting some folks from the SSA Community Summit 2018 and a few Twitter people.
Thanks to anyone involved which I missed mentioning. It's not intentional and you're appreciated. Thank You.
More impressions
Words can hardly describe the atmosphere during those events and activities described above. Following are a couple more impressions from my three days spent in Kigali. See for yourself and kindly consider to visit Kigali in the future. On my side, I already suggested to my wife that we should come back/again to Rwanda. Even for the children it seems an interesting country to explore.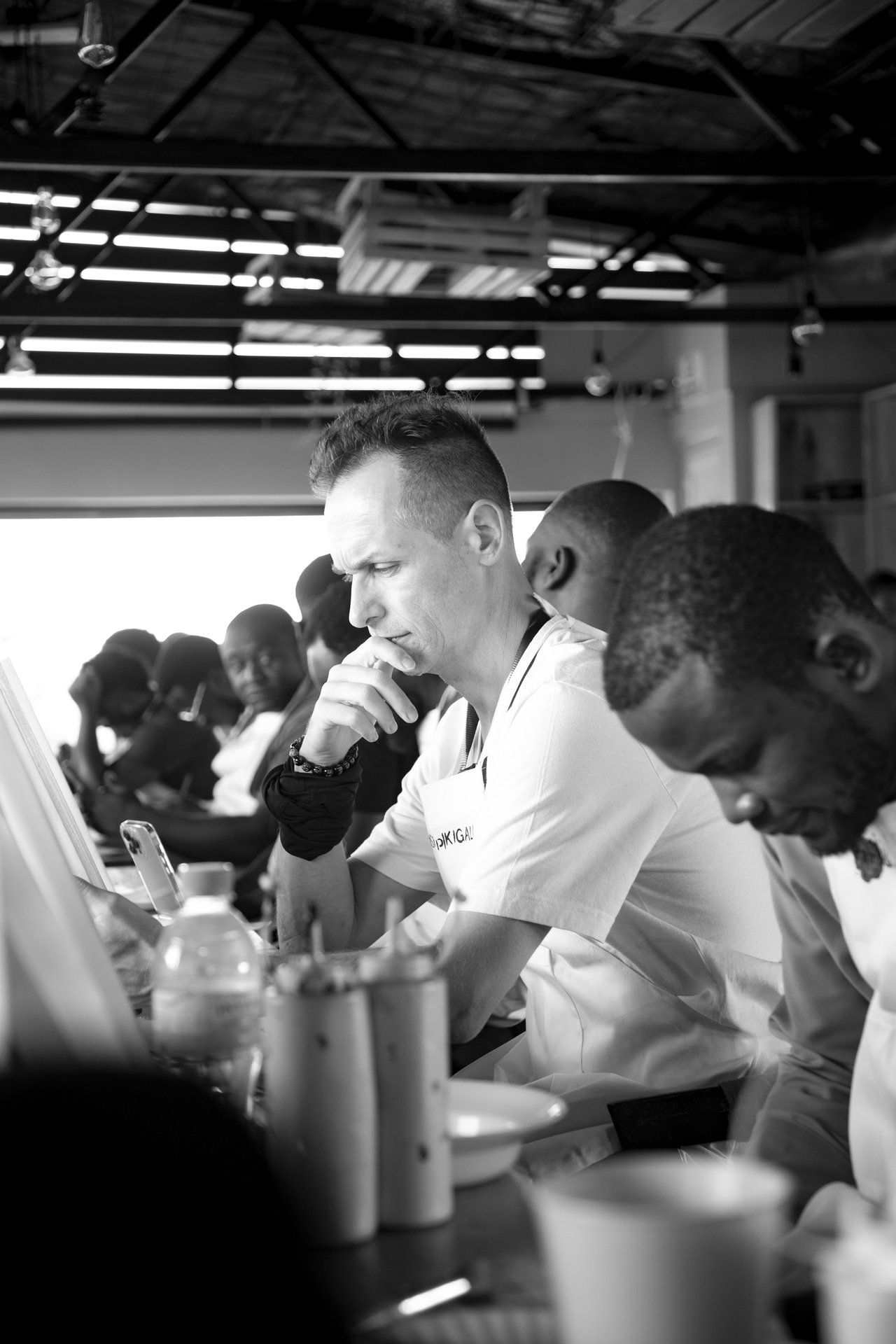 In case that you visited Rwanda and you'd like to share some tips. Please leave your remarks and suggestions in the comment section below. That's really appreciated from me.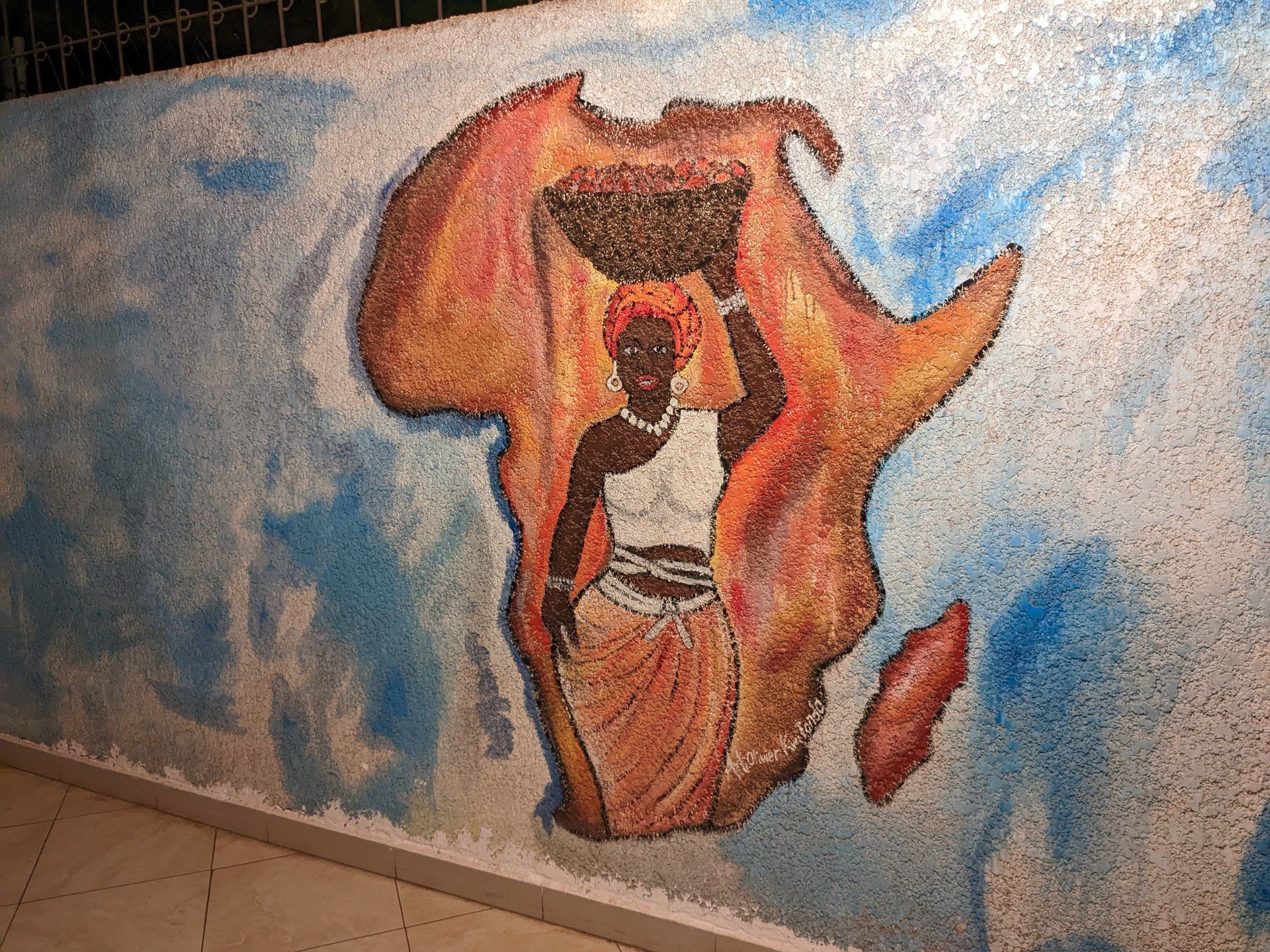 Note: Some of the links above are affiliate links which don't hurt anyone's wallet but provide a little bonus for my personal interest in books and other gadgets.