Once upon a time in a country far far away...
Okay, actually it's not that bad but it has been a while since the last meeting of the Linux User Group of Mauritius (LUGM). There have been plans in the past but it never really happened. Finally, Selven took the opportunity and organised a new meetup with low administrative overhead, proper scheduling on alternative dates and a small attendee's survey on the preferred option. All the pre-work was nicely executed. First, I wasn't sure whether it would be possible to attend. Luckily I got some additional information, like children should come, too, and I was sold to this community gathering. According to other long-term members of the LUGM it was the first time 'ever' that a gathering was organised outside of Quatre Bornes, and I have to admit it was great!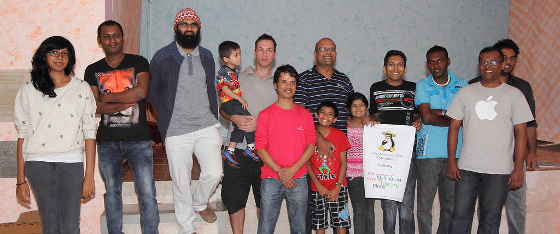 LUGM - user group meeting on the 15.06.2013 in L'Escalier
Quick overview of Linux & the LUGM
With a little bit of delay the LUGM meeting officially started with a quick overview and introduction to Linux presented by Avinash. During the session he told the audience that there had been quite some activity over the island some years ago but unfortunately it had been quiet during recent times. Of course, we also spoke about the acknowledged world dominance of Linux - thanks to Android - and the interesting possibilities for countries like Mauritius. It is known that a couple of public institutions have there back-end infrastructure running on Red Hat Linux systems but the presence on the desktop is still very low. Users are simply hanging on to Windows XP and older versions of Microsoft Office.
Following the introduction of the LUGM Ajay joined into the session and it quickly changed into a panel discussion with lots of interesting questions and answers, sharing of first-hand experience either on the job or in private use of Linux, and a couple of ideas about how the LUGM could promote Linux a bit more in Mauritius. It was great to get an insight into other attendee's opinion and activities. Especially taking into consideration that I'm already using Linux since around 1996/97. Frankly speaking, I bought a SuSE 4.x distribution back in those days because I couldn't achieve certain tasks on Windows NT 4.0 without spending a fortune.
OpenELEC Mediacenter
Next, Selven gave us decent introduction on OpenELEC:
Open Embedded Linux Entertainment Center (OpenELEC) is a small Linux distribution built from scratch as a platform to turn your computer into an XBMC media center. OpenELEC is designed to make your system boot fast, and the install is so easy that anyone can turn a blank PC into a media machine in less than 15 minutes.
I didn't know about it until this presentation. In the past, I was mainly attached to Video Disk Recorder (VDR) as it allows the use of satellite receiver cards very easily. Hm, somehow I'm still missing my precious HTPC that I had to leave back in Germany years ago. It was great piece of hardware and software; self-built PC in a standard HiFi-sized (43cm) black desktop casing with 2 full-featured Hauppauge DVB-s cards, an old-fashioned Voodoo graphics card, WiFi card, Pioneer slot-in DVD drive, and fully remote controlled via infra-red thanks to Debian, VDR and LIRC. With EP Guide, scheduled recordings and general multimedia centre it offered all the necessary comfort in the living room, besides a Nintendo game console; actually a GameCube at that time...

But I have to admit that putting OpenELEC on a Raspberry Pi would be a cool DIY project in the near future.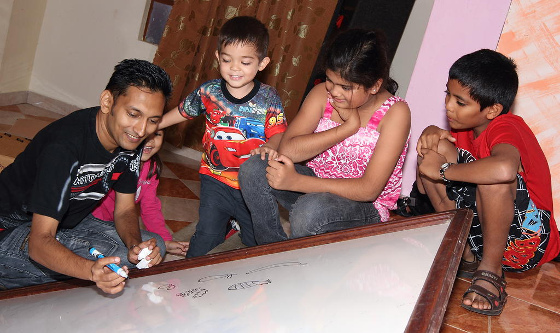 LUGM - our next generation of linux users (15.06.2013)
Project Evil Genius (PEG)
Don't be scared of the paragraph header. Ish gave us a cool explanation why he named it PEG - Project Evil Genius; it's because of the time of the day when he was scripting down his ideas to be able to build, package and provide software applications to various Linux distributions. The main influence came from openSuSE but the platform didn't cater for his needs and ideas, so he started to work out something on his own. During his passionate session he also talked about the amazing experience he had due to other Linux users from all over the world. During the next couple of days Ish promised to put his script to GitHub... Looking forward to that.
Check out Ish's personal blog over at hacklog.in. Highly recommended to read.
Why India? Simply because the registration fees per year for an Indian domain are approximately 20 times less than for a Mauritian domain (.mu).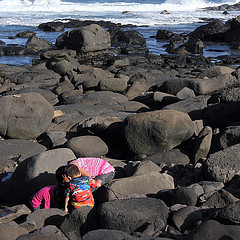 Exploring the beach of L'Escalier af the meeting
'After-party' at the beach of L'Escalier
Puh, after such interesting sessions, ideas around Linux and good conversation during the breaks and over lunch it was time for a little break-out. Selven suggested that we all should head down to the beach of L'Escalier and get some impressions of nature down here in the south of the island. Talking about 'beach' ;-) - absolutely not comparable to the white-sanded ones here in Flic en Flac... There are no lagoons down at the south coast of Mauriitus, and watching the breaking waves is a different experience and joy after all.
Unfortunately, I was a little bit worried about the thoughtless littering at such a remote location. You have to drive on natural paths through the sugar cane fields and I was really shocked by the amount of rubbish lying around almost everywhere. Sad, really sad and it concurs with Yasir's recent article on the same topic.
Resumé & outlook
It was a great event. I met with new people, had some good conversations, and even my children enjoyed themselves the whole day. The location was well-chosen, enough space for each and everyone, parking spaces and even a playground for the children. Also, a big "Thank You" to Selven and his helpers for the organisation and preparation of lunch. I'm kind of sure that this was an exceptional meeting of LUGM and I'm really looking forward to the next gathering of Linux geeks. Hopefully, soon.
All images are courtesy of Avinash Meetoo. More pictures are available on Flickr.