General
16 February 2014 -
Getting more involved into the local ICT community seems to open a lot more possibilities and occasions to participate in various events. Lately, I have been to the first gathering of the freshly created Emtel Knowledge Series. The aim is briefly described as following:
"Emtel is pleased to invite you for an exclusive Knowledge Series Workshop on the theme "Improving Business Performance Through the Adoption of Innovative Technologies" organised jointly by the Ministry of ICT and EMTEL

This workshop will be a platform that offers intuitive access to innovative technologies, allowing both public and private sector organizations to manage their digital infrastructure more efficiently, to drive growth while saving time and reducing cost." -- Source: Eventbrite
The Emtel Knowledge Series goes in compliance with Emtel's 25th anniversary celebrations throughout the year and the master of ceremony, Kim Andersen, mentioned that there will be more upcoming events on a quarterly base. As a representative of the Mauritius Software Craftsmanship Community (MSCC) there was absolutely no hesitation to join in and quite frankly it was a well prepared workshop and I'm looking forward to future announcements.
Emtel has quite a number a milestones achieved throughout the years, and despite rants over internet connectivity, DIY instructions for In-Car WiFi, or complains about the lack of certain services (FAX, VoIP, multiple SIMs, etc.), it's actually impressive what Emtel did and how they improved the ICT landscape, especially in terms of mobile network, here in Mauritius. But it's also very good to see that the won't rest on their laurels and continue to provide top-notch services for the country and its population.
Availability of LTE and IPv6
If I recall correctly, Emtel upgraded their equipment for use of IPv6 already during 2012. And not only plain IPv6 but also the companion services of 6-to4 and 4-to-6 address mapping and tunneling infrastructure. The recent and ongoing movement of the 'Internet of things' it is absolutely recommended and necessary to provide this kind of infrastructure. And it's good to see that at least one communication company is part of this modernisation process. On several occasions I already mentioned that during the startup phase of IOS Indian Ocean Software Ltd. I got in touch with various service providers for telephony and internet connectivity and I chose Emtel since the beginning. Confirmed by the presentations during the day it was a good choice.
I guess it's about time to tinker with IPv6 in my own infrastructure and give my internet gateway some attention in those matters.
Demonstration of LTE speed
In the entrance area there two or three small booth for product and service demonstration. Of course, in promotion of the 4G/LTE network there were only LTE enabled devices like the HTC One, the iPad mini but also the very impressive Samsung NotePro tablet - what a monster! Running the usual Speedtest app from Ookla it was really interesting to see that you could easily reach up to 20Mbps in both directions with a latency of approximately 15-20 milliseconds.
Having access to the freely available WiFi networks - one for IPv4 and one for IPv6 - I did some test runs with various servers in different areas of the globe during the presentations. Of course, due to international cabling the results vary... The test results with servers in Dubai, Cape Town or Singapore ranged between 3.0 and 6.4 Mbps while offering pings between 300ms and 1.000ms. The advantage of increased speed is inevitable but the latency values are still comparable to my findings on WiMAX or on 3G network.
Most interestingly, the package prices of LTE connectivity are lower than for WiMAX and I'm already taking into consideration to swap networks given reliable network coverage in my area. My main concern about that switch is only related to the bandwidth...
Networking in the name of MSCC
As briefly mentioned above I was about to combine two approaches for this workshop. Of course, getting latest information and updates on Emtel services available, especially for my business here on the west coast of the island, but also to meet and greet new people for the MSCC. And I think it was very positive on both sides. Let me quickly describe some of the key aspects that happened during the day:
Meeting with Arnaud Meslier, Microsoft to exchange latest information on the upcoming Global Windows Azure Bootcamp (GWAB). Unfortunately, we are little bit behind schedule with our plannings but still green.
Got in touch with Bruce Hough, Emtel to learn about the potential availability of 4G/LTE in Flic en Flac. Currently, there is coverage at La Preneuse, Black River and I should request another site survey to check out the feasibility.
Got introduced to Adrian Christian, Emtel which showed interest in my long-lasting service requests and reasoning for a number of mobile services that Emtel is currently not offering but should (IMHO).
Had a quick chat with Mrs. Madhub, Data Protection Commissioner on potential corporation with the MSCC and LUGM for a planned conference during September.
Additionally, a number of various other interesting chats...
At the moment, I'm catching up on a couple of business cards in order to provide more background information about the MSCC, and to create a better awareness of MSCC within the local IT businesses.
Raffle - Surprise, surprise!
Surprisingly, during the morning sessions it was announced that there will be a raffle by the end of the day, and attendees are invited to join in with their lanyards. Originally, I had the intention to leave before lunch break but hey why not just stay a bit longer and see what's going to happen during the raffle...
First (and only) prize to win was an Apple iPad mini WiFi Cellular, 16GB Black. In the nature of the event this device is LTE-enabled and ready to rumble the online streams. How do I know so many details? After a very long adventure with numerous draws using a software appication called Easy Raffle and noone in the room to claim the prize (although I was very very close one time), it was finally decided that instead of targetted 3 digits, anyone whose last 2 digits match would win. Well, first trial on the new concept beared no winner, second trial again nothing, and then finally the lucky number was declared: 25 - as in 25th anniversary of Emtel. My badge number was 47225... surprise, surprise!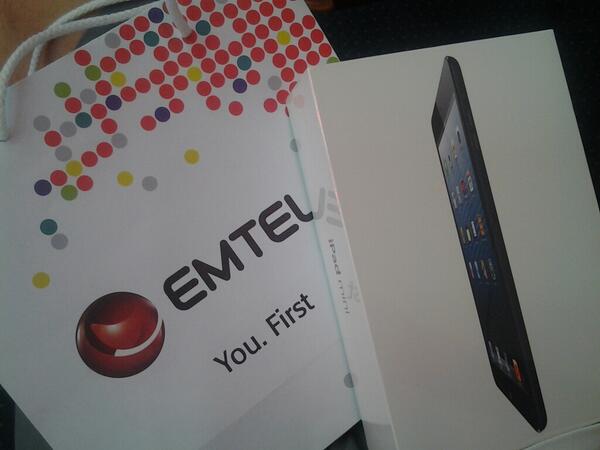 Another tablet added to the collection of devices... Thanks Emtel!
Resume of the day
The event was split in multiple concepts and the transitions between presentations on various topics, the panel discussions, the product and service demonstration outside the auditorium, and the placement of the breaks for food and networking were smooth. Overall, a well-organised workshop and it would be another interesting experience to join the next workshop in Q2.
Furthermore, I would also welcome that Driving Business Forward by Knowledge 7 as of last year is about to continue.
---