General
28 January 2013 -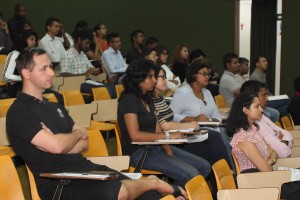 Image is courtesy of Knowledge7.
There are new and fresh activities going on in Mauritius.
Thanks to the effort of Knowledge 7, I could attend the first meetup of an upcoming series of meetings on technology and social media. The three sessions were run under the umbrella topic of "Driving business forward with Social Networks, Mobile & Cloud technologies" and covered the importance of smartphone platform, an innovative way to leverage Oracle Application Development Framework (ADF) for a local business in the field of construction and last but not least on how to choose and use Social Media platforms like Facebook, LinkedIn, Google+ or Twitter to embrace and communicate with your consumers.
Overall I was very pleased by the level of professionalims in the organisation prior to the event and the actual execution on the premises of the University of Mauritius. The audience was also very diverse and various types of people were present: students, SEO freelancer, ghost writer, marketing manager of local and international brands, and even deligates from local newspaper and magazines. The Q&A session at the end of the meeting gave me a nice overview of other's struggles and success stories as well as new ideas for my businesses.
A big Thank You to the team at Knowledge 7 and the speakers. I'm really looking forward to one of the next gatherings.
---